DDoS 360 is the ultimate DDoS protection service for high-risk companies, maximizing the security posture and the ability to withstand any DDoS attack regardless of its intensity and persistence.
Unlike the common practice of a single DDoS test session, the DDoS 360 program contains multiple, year-round activities carried out by our top DDoS experts. This includes extensive pre-attack activities to strengthen your technological infrastructure and improve the skills of your teams, as well as a dedicated incident response expert team in the event of an attack. Combined, these activities form an all-inclusive DDoS strategy that increases your organization's ability to withstand any DDoS attack by over 90%.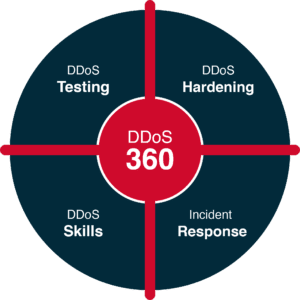 Comprehensive, Year-Round DDoS Preparedness
Activities in the DDoS 360 program are tailored to each customer's needs, yet always include a combination of the following categories:
DDoS Testing. Periodic DDoS testing sessions (per quarter) to validate the security posture, evaluate protection improvements, and identify issues.
DDoS Hardening. A thorough audit of your network architecture and DDoS protection system configuration to assess your current protection status against all types of attacks. This is followed by detailed recommendations for hardening and optimization. When relevant, the hardening activities may include a POC for the selection of a DDoS vendor.
DDoS Skills.  DDoS training of all stakeholder teams (NOC/SOC, Security, Network, and IT managers), a DDoS attack playbook with detailed procedures to follow during a DDoS attack, and war game simulations to validate teams' preparedness.
Incident Response (IR). In case of an attack, our DDoS experts are immediately assigned to manage the attack until its full mitigation.
DDoS 360 activities are spread throughout the year based on the needs and constraints of your organization. A tailored activity plan (similar to the one below) is put together and if needed, is dynamically adjusted to respond to changes such as a new threat or a newly detected security gap.
DDoS 360
Get an expert analysis of your current protection level and recommendations for improvement.

The DDoS 360 program provides measurable improvements of the DDoS security posture and readiness for attacks.
Upon launching DDoS 360, we conduct a simulation and measure your DDoS Resiliency score. This provides a baseline score, outlining a list of attack types that your organization can withstand prior to an outage.
Throughout the program, we run multiple testing sessions to measure your resiliency score and compare it to the baseline. Typically, the score improves by at least 90%.