Red Button is a boutique shop of security experts offering end-to-end DDoS protection services to organizations worldwide.
Leveraging our extensive, decade-long DDoS expertise, we offer DDoS testing, DDoS hardening, training, and incident response services to private and public companies in multiple industries. Our customers include commercial and federal banks in Europe, Asia, South, and Central America, the five largest banks in Israel, online trading and payment services, Internet and ISP providers, and large international gaming companies.
Starting in 2010, our team successfully mitigated hundreds of DDoS attacks, including some of the most massive, sophisticated attacks like OpWallStreet, OpIsrael, and the allegedly state-sponsored OpAbabil. We regularly handle attacks of over 100 Gbps and in 2020 we mitigated one of the largest volumetric attacks of over 1.2 Tbps. In recent years, we gained extensive experience with ransom DDoS attacks on gambling companies.
On a yearly basis, our security experts handle 20-30 global Incident Response incidents, which allows us to offer our customers the most up-to-date insights on DDoS attack trends and the best prevention practices.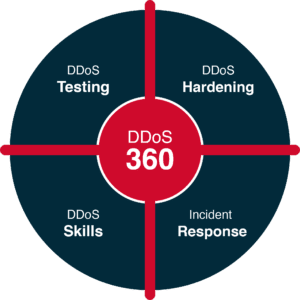 Our vendor-agnostic approach ensures an objective consulting that is based on our hands-on experience with all the top DDoS software and hardware vendors.
Red Button initiated and established the DDoS Resiliency Score (DRS), an open DDoS benchmark standard, which enables measuring and evaluating DDoS mitigation strategies in objective, quantitative terms.
As an authorized AWS DDoS Test Partner, Red Button is authorized to conduct DDoS simulation tests on behalf of AWS customers without prior approval from AWS.
Ziv Gadot is Red Button's founder and CEO. In the last decade, Ziv has managed hundreds of DDoS attack mitigation projects and gained extensive experience in DDoS attacks and defense. Prior to Red Button, Ziv worked for 11 years at Radware, where he founded and managed the Emergency Response Team (ERT). Earlier in his career, Ziv worked on Check Point's VPN team and at Intel. Ziv is a frequent speaker at security conferences, an author of security reports, and the founder of the DDoS Resiliency Score (DRS) standard.