Plenty of knowledge, data and solutions are available today to help strategize and prepare IT networks against DDoS attacks. But despite the wealth of data, no measurement scale exists for evaluating and measuring the attacks strengths. These actions allow you to estimate the ability to withstand those attacks and doing DDoS risk assessment as well. For example, how many organizations can accurately evaluate or predict what type and volume of DDoS attack vectors can their system withstand?
The DDoS Resiliency Score (DRS) is a standard measuring and evaluating mitigation strategies in objective, quantitative terms. Using the DRS score, organizations can: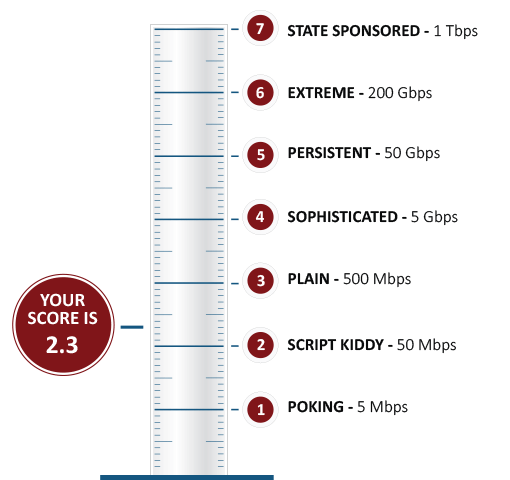 Evaluate DDoS attack readiness.
The DRS score provides a specific, defined list of the types of attacks that an organization can withstand prior to an outage.
Make better technology decisions.
Using the DRS score, technical teams can compare the effectiveness of different DDoS technologies and solution options by assigning each a score.
Facilitate communication between management and technical teams.
A score of 4.7, for example, can point out to management that mitigation capabilities have improved since the previous score of 3.5. At the same time, the score also encapsulates a list of specific attack vectors that will and will not be blocked, which the technical teams can analyze.