Modern CAPTCHA is a type of challenge intended to differentiate between computers and humans.
Modern CAPTCHA address the shortcoming of the traditional CAPTCHA ,namely thathumans are also having trouble to pass them successfully. NOCAPTCHA ReCAPTCHA is the most prominent example of modern CAPTCHA.
Related entreis: CAPTCHA, Web Challenges, Web Challenge Spectrum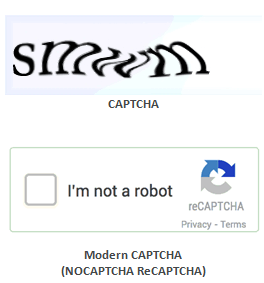 ARE YOU READY?
Answer seven online questions and get a free report assessing your protection status with recommendations for improvement