DDoS Conference Israel 2016
Tuesday 5.4.2016 "The Sharon Hotel", Herzliya
To view the presentations and videos of the Conference please register in this page.
Are you part of DDoS Defenders community?
DDoS (Distributed Denial Of Service) attacks is currently one of the main concern for many organizations.
Many CISO testify how difficult is to manage the mitigation of DDoS attacks and how acute their damage can be.
While Government organizations, Banks and eCommerce sites were the first victims, other verticals  like HealthCare, Utilities and Energy become aware to their lack of immune.
Main issues presented in DDoS Conference:
Attack Methods and Motivations.
Mitigation Technologies Overview.
"War Stories"of organizations under DDoS attacks.


 
Who is the Conference for?
Information security managers and IT's staff that are in charge of the service protection, both technical design, and decision makers. The conference is both for organization that have already faced DDoS attacks as well as organizations that realize they need to address this issue seriously.
Schedule:
Note – all lectures are in Hebrew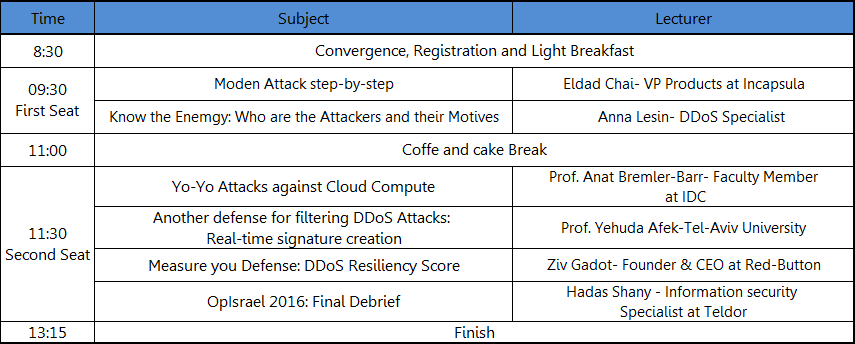 Lecturers: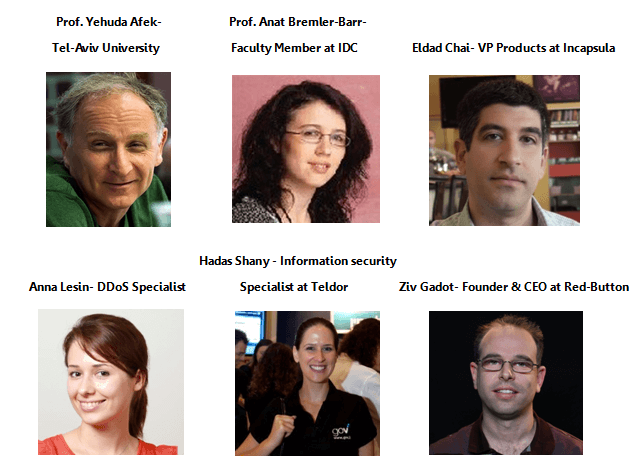 Additional Information regarding DDoS Conference:
The Conference is free of charge and will take place at April 5th 2016 ,on 08:30-13:15 at "The Sharon Hotel" (4 Ramot-Yam street, Herzliya).
Among the participants are banks, government, eCommerce, forex-and-trade as well as DDoS vendors, service providers.
The conference is organized by Red-Button, we are a security services and consulting company. Our mission is to prepare organization for DDoS attack from an architectural, vendor-neutral point-of-view, and ensure that the organization conducts all the necessary steps to be prepared: gap analysis, DDoS Simulation test, technology selection, SOC training and emergency response.
For more information- [email protected]
Presentations:
To view presentations and videos of the Conference please register: